Artists lean in to experimentation at Adobe's Make It with Generative AI workshop
Two days of artistry, creativity, and co-creation with Adobe Firefly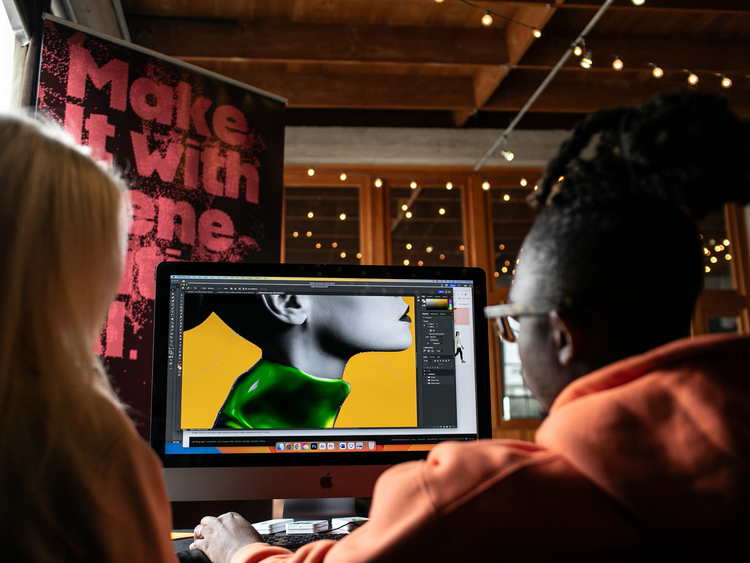 All photography by Myleen Hollero
Adobe Make It is a by-invitation workshop series that brings together creators and challenges them to explore, experiment, and create with new (and occasionally not-yet-released) Adobe tools. Earlier this month, Adobe hosted 20 artists, from around the world, and across disciplines (including illustration, design, photography, architecture, and video), for a two-day, in-person creative jam session in San Francisco's SoMa district.
Adobe's Principal Designer, Machine Intelligence & New Technologies, Brooke Hopper, kicked things off with a history of the event, which we've been hosting in various iterations since 2016, that often take place around big moments in creative technology. She said, "We've been witness to another major shift in technology with generative AI and because it's such a special time in the creative industry we knew it was time for another workshop—one that included Adobe Firefly."
Director of Experience Design, Machine Intelligence & New Technologies at Adobe, Jason Linder defined the creative brief: Use Adobe's generative AI tools to create full-color art that can be greyscale-printed on 2 pages of a 20-page generative art zine. Before dividing the roomful of people into ten teams of two, he shared a handful of prompts (with words like isolation, serenity, chaos, harmony) intended to ignite creative sparks, and asked everyone to rely on their intuition and artistry while leaning into the fun, weird, and unpredictable nature of generative AI.

From inspirational keynotes to the final print run, some highlights, in words and pictures, from the two-day event.
Bursts of inspiration: keynote speakers and a night at the museum
Ovetta Sampson, Director of UX Machine Learning at Google, urged everyone to dream with generative AI technologies, but to also be cautious of their capabilities (the ability for machines to understand human language) and limitations (that machines create without soul or morality) so their creations would be innovative, but also responsible. She ended with a reminder that although generative AI can seem creative, creativity is a uniquely human quality nourished by human abilities to take risks, break rules, daydream, and put lived experiences into our work.
Arist Sofia Crespo, whose art questions the potential of AI to reshape our understanding of creativity, shared a portfolio of work that reimagines the natural world. She views generative AI as an extremely powerful creative tool for visual artists who can use it to extract and generate patterns from data and create new work from combinations they may never have considered. As those outputs feed back into AI models, they'll create increasingly unique data sets.

The event coincided with the Asian Art Museum's opening of Murakami: Monsterized, the first solo exhibition of Takashi Murakami in San Francisco. Viewing the exhibit was the perfect complement to the creative exploration of Make It, not just because of Murakami's influence on pop culture but because of how he remixes present day media, Japanese art tradition, and modern motifs to create work that's simultaneously joyful, fun, and complex.
Presentations, conversations, and a zine
After nine hours of creation time across the two days, teams shared their work and their process. Any hurdles they had to jump or limitations they'd bumped into merged to create unique artistic interpretations. There was talk of what they'd tried to do but couldn't, what they were able to do that amazed them, which tools were the most expedient to use and why, and where they hoped generative AI technology would go in the future. Concurrently, in another part of the space, the zine team started printing, cropping, and stapling.

Every Make It workshop is distinct and different, but we always leave them inspired by the coupling of human imagination, ingenuity, and creativity and the capabilities of Adobe's newest tools. For a look at the artistry of the 20 Make it with Generative AI participants, visit our Behance portfolio, and for a three-minute digest of the two-day event check out the video below.
<iframe width="560" height="315" src="https://www.youtube.com/embed/3C4xpie8l4U?si=rbstTYcga4F8RnFD" title="YouTube video player" frameborder="0" allow="accelerometer; autoplay; clipboard-write; encrypted-media; gyroscope; picture-in-picture; web-share" allowfullscreen></iframe>
Header copy
Design your career at Adobe.
Button copy
View all jobs