Scott Belsky on design at Adobe and what's ahead for the creative industry
A conversation with Adobe's Chief Strategy Officer—and director of design—about crafting the future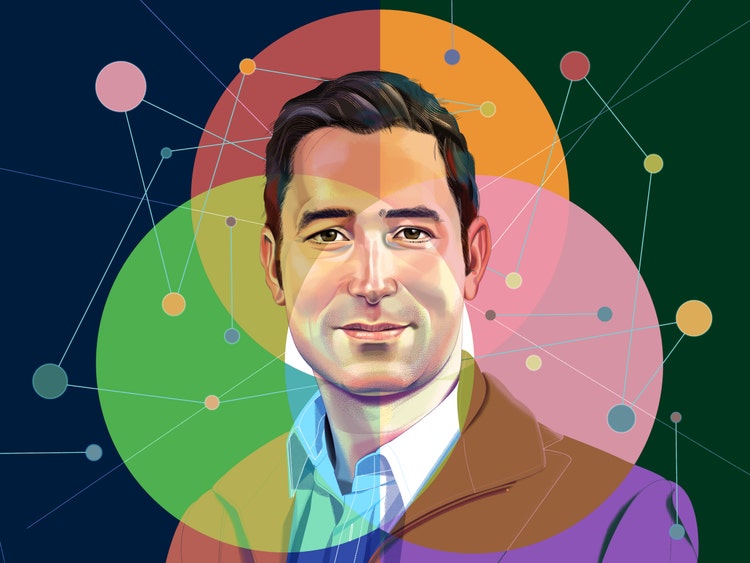 Illustration by Nigel Buchanan
Design helps us create the present and imagine the future. That's the belief of Scott Belsky, Adobe's new Chief Strategy Officer and EVP, Design & Emerging Products, who is looking to designers to help chart the company's next path, from the world of 3D and immersive design to creating with generative AI and building equitable products.
Earlier this month Adobe formed a new Strategy, Design, & Emerging Products organization with Scott Belsky to lead it. The founder of Behance and 99U (acquired by Adobe in 2012), has served as Adobe's Chief Product Officer for the past five years, during which time his focus on innovation and design rigor have set the standard for how we build and ship products.
In his new role, Scott will continue to be a champion of design-driven thinking as he creates the blueprint that will outline more streamlined and coordinated experiences for our customers. Whether we're extending Adobe Acrobat or Adobe Illustrator to mobile and web, perfecting in-app collaboration with Share for Review, exploring generative AI in Adobe Experience Manager, or investing in 3D and immersive technologies, one of Scott's areas of focus will be on our in-product experiences and the design that connects and elevates them.
As he begins his new role, we met up with Scott to ask him about the future of design at Adobe and what's ahead for the design industry.
You've often referred to design as the "empathy arm of the company." What does that mean to you when it comes to the tools and experiences Adobe builds?
First, there's no better path to success than building products for yourself. Being "customer zero" is a superpower that quickly gives us a hard dose of reality, so whenever we can be, we should be building products and having our own designers use them first. And when we're not building for ourselves, it's important to understand the people we are building for. Too often teams try to immediately create solutions to problems rather than empathizing with those suffering through them. But the more time our design teams spend shoulder-to-shoulder with customers to watch how they use our products, or engaging with marginalized groups to comprehend the challenges they face, the better we can understand the struggles people are having with our products and services. When we can better understand people's pain points, we can create universal solutions and more accessible products.
In what ways do you envision design (for Adobe Design that includes experience design, design research, prototyping, content strategy, program management) affecting strategy and emerging products at Adobe?
It can be difficult for people busy with day-to-day and quarter-by-quarter responsibilities to really imagine how a fundamentally different product could be better than what currently exists—and what "better" might even look like. Design helps us think about, discuss, and revise strategy by showing ideas rather than talking about them. It's through design input that we can convey how products might come together in new ways: how we might collapse multiple products into a singular experience or how a product from an acquisition could be incorporated into an existing one.
My goal for our new organization is to combine the strategic and design work we do to craft a future where we have more informed conversations and make bolder decisions. This is especially important in areas of our business that are either fast-growing or ripe for disruption—those places where we need to make big decisions quickly. But reimagining how to deliver experiences (quickly accommodating new formats, responding to competitors, or rethinking business models) can be difficult to do without a way to explore ideas. Design teams explore edge cases that may someday become the center. By showing, polishing, and presenting them in a way that everyone can understand, they socialize ideas that can be scary, complex… or even just new.
Looking beyond Adobe, how might design impact emerging technologies like generative AI?
Technology succeeds not because of the technology but because of how people experience it. And I don't just mean the UI, but the copy, the information being shared, and whatever process someone is going through as they use a product. In the case of generative AI, what really matters are things like whether a model was trained on a data set that someone can feel good about using. As an example, it's extremely valuable that the Content Authenticity Initiative is being integrated into Adobe Firefly. We're being very intentional about educating customers about what content authenticity is and showing credentials for every asset that's created by default. That information started out very complex and we went through many iterations to radically simplify it so that it was easy to talk about and understand. It's a great example of how an experience can help make people comfortable using new technology.
Adobe Design recently expanded its Product Equity team to bring more rigor to building equitable products. Why is it important?
The products people use every day—from the spaces they work in, to the pens they draft with, and the desks they sit at—affect the decisions they make and the work they push out to the world. Adobe enables some of the largest brands in the world to create digital experiences for their customers. If every person who uses one of our products can be influenced by the UI and UX, our products can "set the bit." By solving challenges for entire groups of people, and incorporating those solutions into our products, we can increase the odds that the people working in them will also be thoughtful about how they can meet the needs of as many people as possible. It's easy to think about this concretely with regard to generative AI, a technology that leverages inherently biased datasets: As the maker of a maker tool like Firefly we have a business obligation to ensure that we don't sustain that bias.
Since Behance's founding in 2005 a lot has shifted in the professional creative landscape. What's your prediction for the next several years?
We're going to continue to see increased debate and policies around notions of training data for generative AI models and how to compensate creatives for their styles, and the work they've done that becomes part of training models. As a result, I've been thinking a lot about creative control and how creative professionals get what's in their mind's eye into the world with precision, especially as it relates to the increase in creative confidence among the general public. I used to believe that creative confidence peaked at five years old—when every drawing was a piece of art—and that people lost it as they realized the world was full of critics and people with more skill. But products like Adobe Express and technologies like generative AI are giving people more creative confidence. Over the next few years, we'll continue to see an upswing in creative confidence as generative AI spurs imagination, and new technologies help people express themselves in ways they never thought possible. That increased creative output by non-professionals will also usher in a new era for creative professionals, who will use these new tools and technologies to create work that stands out and above work that's generative or template-driven and push their skills, their processes, and their ingenuity to new levels.
Header copy
Design your career at Adobe.
Button copy
View all jobs