Ask Adobe Design: How did you get into design?
Our team members share their career origin stories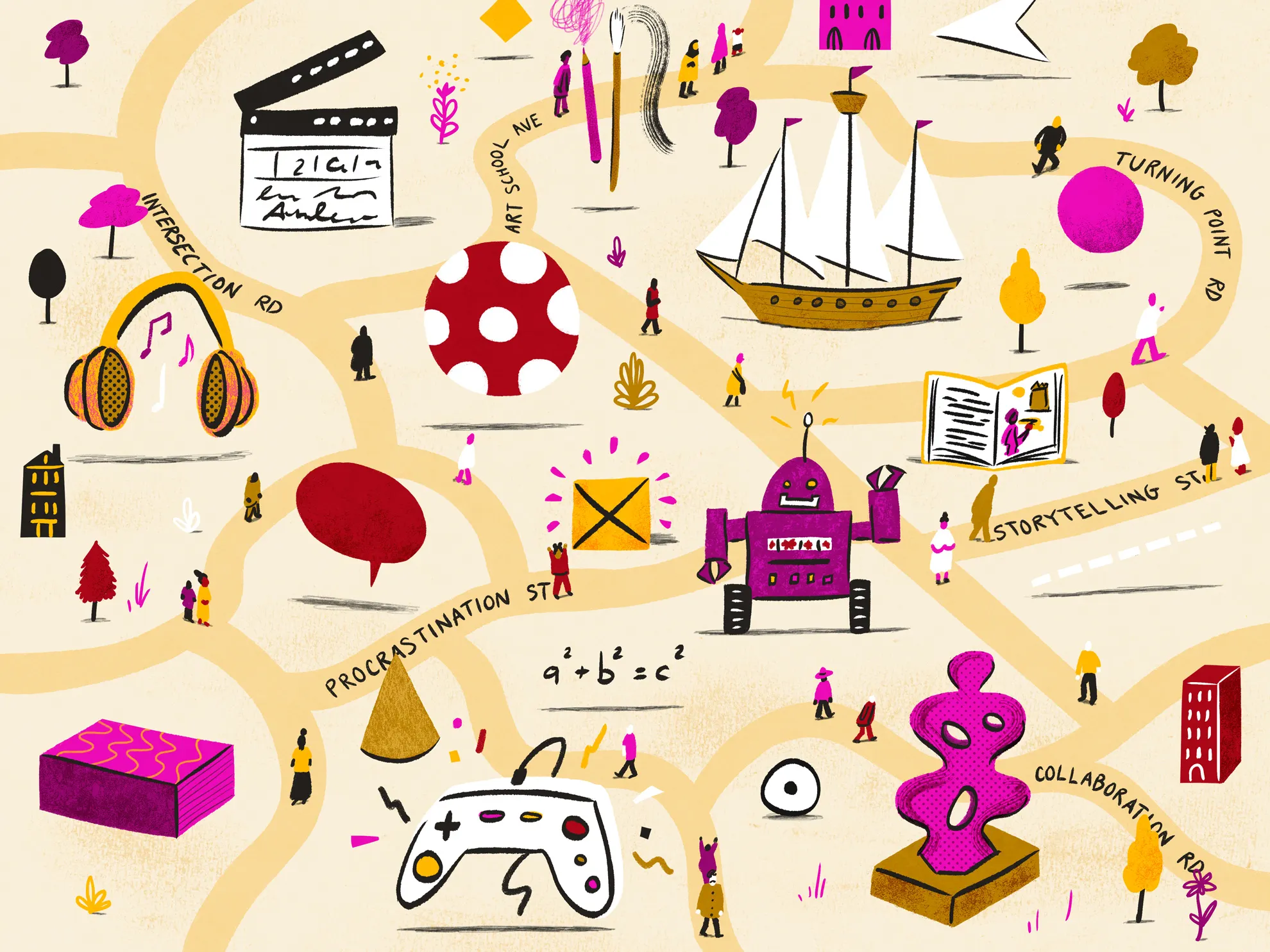 Illustration by Daniel Gray-Barnett
Ask Adobe Design is a recurring series that shows the range of perspectives and paths across our global design organization. In it we ask the talented, versatile members of our team about their craft and their careers.
For this edition we asked five of our team members to share their career origin stories. For most, a career in design wasn't a foregone conclusion, but a natural evolution of their love for collaboration and creating great experiences.
"I stumbled on design research by following my passion for anthropology."
Tara Kola, Experience Researcher, EDU
"In grad school, I studied anthropology and history, focusing on South Asia. I loved coming up with research projects: I studied the opium trade from the 19th-century to the present; I researched women's experiences of abortion in colonial India; and I did fieldwork in rural India, studying how girls learn through play. I loved researching social systems and thinking about how people live within them, but I also wanted to take research to the next step and turn that knowledge into products.
"After graduating, I moved to the Bay Area and started meeting with people to learn about careers that involve anthropological research and building products. Eventually I met some of the great people on the Adobe Design Research & Strategy team and discovered that user researchers on design teams get to do that every day. They research social systems and work with multidisciplinary teams to think about what products might create value for people within those systems. They get to see how their understanding of users plays out in the real world.
"I couldn't have planned my path to design research; I stumbled upon it by following my passion for anthropology and history research methods."
"The real turning point for me was a class on inclusive design and assistive technology."
Jeremy Joachim, Experience Developer, Machine Intelligence Design
"I wasn't aware of design until my third year of college. I was studying mechanical engineering and took a class on inclusive design and assistive technology, and it was a real turning point for me. Before then I'd been asking questions like "How does this work?," and "What can we make?," but design provided the lens to ask questions like "Who needs this?," "Who's being left out?," and "What do they want?."
"From that point on I was excited about everything multidisciplinary, especially when it came to creativity, technology, and expression. I took classes in digital media, robotics, electronic music, and hardware; collaborated with people from computer science, industrial design, urban studies, applied math, and sculpture to work on extracurricular projects; and put a ton of work into building a portfolio to get into the design industry (without a formal design background).
"After graduating, I took a position at a studio called Tellart as a creative technologist. During my first couple of years, I picked up skills in design and technology, learned about the stages of a project, how teams follow established processes, and how individuals create processes uniquely their own. In my roles since then, I've continued to develop and refine my exploration of interaction design through prototyping with creative technology. I still believe the most interesting things happen when we intersect disciplines, techniques, and perspectives."
"I realized I had a genuine passion for supporting creative people."
Angelie Herreria, Senior Program Manager, Spectrum Design System
"Before I joined Adobe, I was working at DreamWorks Animation supporting their operations team for a few films like Megamind, Madagascar 3: Europe's Most Wanted, and The Croods. I had the chance to sit alongside artists during a few of their creative sessions and was inspired by their process. These artists found connections between creative ideas and used them to tell stories in beautiful and meaningful ways. I realized I had a genuine passion for supporting creative people and cultivating an environment for them to focus on the art of storytelling.
"When I joined Adobe, I started in talent development to support hiring for Adobe Design. I spent some time on the Employment Branding team where I worked on the Adobe Life blog that puts a spotlight on all the incredibly talented people at the company. While supporting the recruitment team, I'd built relationships with the design team. When the time was right, I was invited to interview for a project manager position. I'm thrilled to be working with folks who are passionate about making experiences meaningful."
"I didn't choose design as a career, instead, design chose me."
Joslyn Reid, Senior Experience Designer, Brand
"My journey as a designer and an artist started back home in Jamaica. I remember the beautiful feeling of creating art and the responses from family and friends. I soon realized that art is more than just a feeling, it also serves a greater purpose. It was this love of illustration that introduced me to the world of design. I enrolled in art school, where I discovered that design is the best representation of purpose-driven art. I was and still am hooked, but the truth is I stumbled into the design industry. I had no idea what design was before college, but my love for illustration made visual communication an obvious choice.
"This new language opened a door to advertising—an ideal industry to get into as a young designer—which provided invaluable experience in marketing, design, and illustration, a trifecta akin to winning the design lottery. I believe in the importance of following one's heart to see where it leads. In my case, it led me to design. One could safely say that I didn't choose design as a career, instead, design chose me."
"I felt myself missing the collaboration that happens on a cross-functional team of experts working together to make something awesome."
Amy Adkins, Senior Content Designer, Content Strategy
"Between getting my English degree and starting law school, I took a summer job as a production assistant on a movie. Three weeks in, I volunteered to fix an urgent problem with the shooting script. The next day, they offered me the director's assistant job.
"Four feature films later, I was still an assistant: supporting our crews, writing and editing, office managing, and producing. I worked closely with eclectic teams of creative, technical, and organizational experts making movies. Everybody was specialized, but we were united in purpose and dedicated to our goal. It was hard to leave, but after ten years I missed home. I took a job at Electronic Arts that matched my experience, and moved back to Utah.
"I joined a collaborative, cross-functional team as a game producer. After a post-alpha pivot, the no-text Littlest Pet Shop game we'd planned required a full adventure game storyline (including all UI and UX text). I quickly became the game writer after volunteering. Our game did well, so I wrote and produced two more for the franchise then did the same in another franchise. I was always inspired and amazed by what we were able to deliver as a team, but after five years of perpetual crunch, I was worn out, and wanted to focus on writing.
"I left EA, did some freelancing, and eventually became a staff writer for TED Conferences helping educators turn their content into TED-Ed animations. It was great, but I felt myself missing the collaboration that happens on a cross-functional team of experts working together to make something awesome. So I was super excited to join Adobe Design as a program manager supporting a cross-functional team. Eventually I transitioned to content strategy, added writing back into the mix, and lived happily ever after."