Hacks, hobbies, and side hustles: The power of makeup
Angelie Herreria on turning a passion into a purpose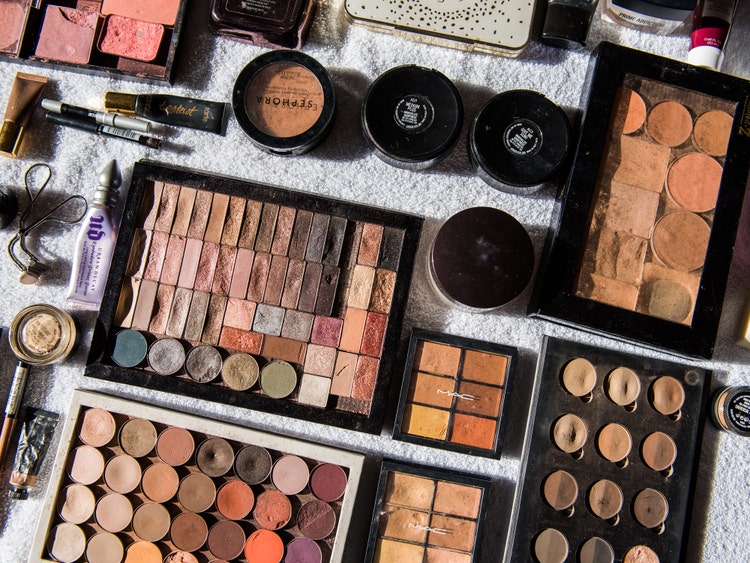 Photography by Melissa DeMata
Hacks, Hobbies, and Side Hustles is a for-fun internal presentation series that began as a one-time event and fast became a popular way for us to get to know our talented colleagues. It has only two guidelines: finish in five minutes and focus on a passion that exists outside of Adobe. Learn where creativity takes the members of Adobe Design when they're not working.
During the week I'm a group program manager for the Brand + Experience team. On the weekend I'm a freelance makeup artist.

I was sixteen when my cousin taught me to do my makeup. At that time, my wardrobe consisted of hoodies, baggy jeans, and Nike Cortez and my cousin decided I needed a makeover. And I fell in love… with the process, the tools, the creative process, and my newfound ability to use makeup as a form of self-expression. I got my first paid gig when I was 20, doing the makeup for a photoshoot for a local blog, and continued it as a side business through college. After graduation though I was spending most of my time focused on my career in operations at Adobe and stopped doing makeup.
It took me a couple of years to realize how much I missed it, but once I did, I started posting detailed shots of my own makeup on Instagram and on a website to try to build a clientele. Eventually people started trusting my talent. I developed an interest in cinema makeup, so I spent a bit of time teaching myself how to use the products to create special effects, but on the complete opposite end of the spectrum, I also started doing bridal makeup. I still often spend my weekends doing makeup for weddings and what I love most about it is helping people feel beautiful on the biggest day of their lives. It fills my heart.
That feeling of connection, of service, is what prompted me to reach out to two friends who work in women's services in the nonprofit sector to ask, "I know this is like a unique skill, but can I provide makeup services to the women in your programs and to the communities you serve?" It turned out they did: One of them, a continuing education school for young mothers that provides prenatal, parenting, and support services while helping them meet graduation requirements, had what they called pampering days; the other, an all-girls high school in San Francisco asked if I could provide hair and makeup for prom for students who couldn't afford it; I also did makeovers for the women in St. Anthony's programs for International Women's Day.
As I continued to do makeup in this volunteer capacity the work increasingly spoke to me, and my involvement deepened. I continued pampering days with MOMS, an Alameda County program geared toward women transitioning back into society and reuniting with their families after being incarcerated, but I also started thinking that makeup education could be useful too.
I again reached out to a friend who works at Glide Memorial in San Francisco, which has a four-month program for women who've experienced abuse and trauma. Part of the program is a career day so I asked if I could go in and teach some basics of makeup application. Despite all the things they'd been through, the number one concern among the group was that someone would be so distracted looking at their scars that the person interviewing them wouldn't be able to hear them. So, I showed a group of smart, beautiful, and hard-working women how to spend ten minutes a day applying makeup and they taught me the value of strength, resilience, and compassion.
It was through Glide that I met the people running MISSSEY, a group that protects and prevents girls and gender expansive youth from entering circumstances of sexual exploitation and violence. They asked if I would come in and lead a makeup workshop for a group newly entering the workforce and interviewing for jobs. It became very clear that my purpose was not just to teach these young women, who were victims or vulnerable to sex trafficking, about makeup but to remind them of their value and reinforce their self-worth. My passion had turned into my purpose.
Denzel Washington, in A Hand to Guide Me, wrote "…at the end of the day it's not about what you have or even what you've accomplished. It's about what you've done with those accomplishments. It's about who you've lifted up, who you've made better. It's about what you've given back." In that spirit, I continue to look for nonprofits to partner with, and meaningful ways to volunteer my time.
Header copy
Design your career at Adobe.
Button copy
View all jobs