Hacks, hobbies, and side hustles: Concert photography
Erica Fasoli experiences music through a new lens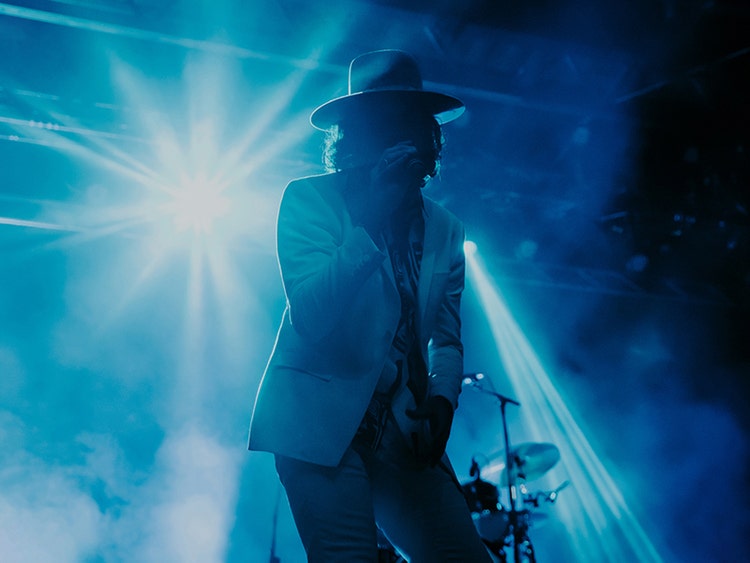 All photography by Erica Fasoli
Hacks, Hobbies, and Side Hustles is a for-fun internal presentation series that began as a one-time event and fast became a popular way for us to get to know our talented colleagues. It has only two guidelines: finish in five minutes and focus on a passion that exists outside of Adobe. Learn where creativity takes the members of Adobe Design when they're not working.
I'm a senior designer on the Experience Cloud team. Photography is a hobby of mine and I've always been a fan of live music, but I never considered a reality where I could pair the two. Not until a few years ago, when my journey into concert photography began.
I was at a show in Salt Lake City, and I ran into a friend who was carrying a large camera. I asked how he'd been able to bring the camera into the venue and he told me that before the show he'd emailed the band's publicist and asked if he could photograph the performance. He said sometimes publicists would say yes and he'd not only be able to get into the venue with his camera but would also be able to go in front of the crowd and take pictures from the pit.
You can do that?!
My mind was blown. I'd always been under the assumption that you had to be a professional photographer, have expensive equipment, and work for the band, which all seemed like an impossible barrier to entry. Apparently, I was wrong.

I thought about it for the rest of the night and snapped a couple of iPhone photos during the show. When I got home, I looked up all the upcoming shows in Salt Lake City. There was a local band that was playing at a larger venue for the first time, so I tracked down the name of the band's publicist and told her I was "a music photographer" in Salt Lake City and that I would love to photograph the show. I attached my iPhone image as "proof" and waited for a response.
Somehow, I got one, and after we figured out some logistics, I had my first press pass to a show. I took my Nikon DSLR—at the time, the cheapest one you could buy at Costco—and jumped into the photo pit for the first time. I took somewhere around 2,000 photos that night.
I was hooked
I used a few of my favorite shots from that night and again I blasted out as many emails as I could to different contacts for any upcoming shows in Salt Lake. I often heard no. Most people didn't even bother to respond. But every so often, I would get a yes and I'd take my camera with my 50mm lens, shoot as many photos as possible, then edit them in Adobe Lightroom and Adobe Photoshop. I started to learn along the way, began building a portfolio that had some legitimacy to it, and started to meet people in the industry.
First, I met a woman in the pit who ran an online music blog, and I started photographing shows for her. Then I met a man in the process of revamping his online music publication and we started to work together (I worked on the design, he focused on the business, and we both photographed shows). I eventually met the editor of the largest local online music publication in Salt Lake City, and I started shooting and writing for him. That added a whole new element to my hobby: Not only did I have to take pictures, I also had to learn how to write about music. That job opened so many doors to photographing artists I never would have gotten approval for previously.
Moments in music
When I look at my photos, they transport me back to the experience and remind me what I was feeling the moment I took them. That's ultimately what I hope my photos do for the people who attended the shows… that they'll look at them and say, "I remember that moment and I remember how I felt in that moment." And for everyone who wasn't at the show, I want to offer them glimpses into what the experience was like (the atmosphere, the energy, the emotion) at a particular moment in time.
Once I'd finally learned the process of shooting and editing, I was able to adjust my photos to feel the way that I wanted them to. When I look back at the following photos, I love them not necessarily because of the quality, but because I think they're an accurate representation of the music and the experience at the time of the show.
It's hard to believe that I started with a single iPhone photo and now I get to create photographs like the ones above that bring me so much joy. I'm so grateful to be able to do this and if I hadn't pushed myself out of my comfort zone, if I hadn't asked for something I wanted, none of it would have become a reality for me.
I'll end with this: "If you put yourself out there, and you ask nicely, you never know what might happen." You can find more of my concert photography here.
Header copy
Design your career at Adobe.
Button copy
View all jobs