Hacks, hobbies, and side hustles: Master copies
Jinjin Sun explores art history, identity, and representation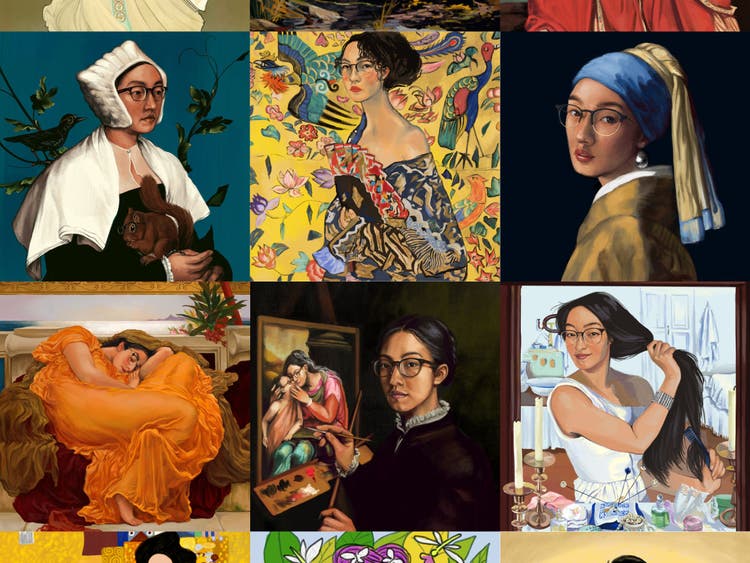 Illustration by Jinjin Sun
Hacks, Hobbies, and Side Hustles is a for-fun internal presentation series that began as a one-time event and fast became a popular way for us to get to know our talented colleagues. It has only two guidelines: finish in five minutes and focus on a passion that exists outside of Adobe. Learn where creativity takes the members of Adobe Design when they're not working.
I'm a senior designer on the Adobe Fresco team and this series is part "master copy," whereby I copy a masterpiece to learn from it, and part self-portrait. It started as a 100 Day Project, a challenge to create one piece of art every day for 100 days, and was supposed to be completed within that specific timeframe. Finishing it took me about two years.
I'd done 100 Day projects before, and was familiar with the format, so when I began, I thought that I would just quickly draw something each day. This time was different: Each entry started taking longer and longer to complete and I became less interested in finishing in 100 days and more interested in what I was learning.
Even though I missed my deadline, the project was a complete success. I learned a lot about artists, art history, and drawing styles, but most importantly, because I face-swapped myself into the copies, it turned into an exploration of identity and representation. I'm using a lot of pieces from Western art history and as an Asian American woman my face is different from what we usually see in this category of art.
I've been drawing for a long time but the arrangements in my art always felt really random, so when I first started, my focus was to better understand composition. Masterpieces always look good, so I thought that even by copying them quickly I'd be able to get a sense of how and why things were arranged a certain way and learn from that.
Initially my drawings were quick and loose but as time went on, I started doing more meticulous copying to get some of the lighting effects right and to play around more with color.
I gave up on the idea of doing one drawing per day when I realized, about seven drawings in, that I'd worked on a drawing for about five hours. I knew spending that amount of time every day wasn't going to be sustainable, but it wasn't until I chose Young Woman with a Water Pitcher, and I struggled with the angle of the face, that I ended up changing the quick-and-loose style I'd started with.
I abandoned the lines and the cartoon quality and just tried to make an exact copy to see if I could get closer. At that point, I started copying in a more rendered realistic style.
I use Fresco. Professionally, it's a great fit because not only is it a product that I would use, even if I weren't on the team, but drawing in it gives me a user perspective that I wouldn't have otherwise. Because as a designer I want to improve the tool for fellow painters and digital painters it creates a bit of a tangled relationship: I love Fresco because I love drawing, and I love drawing and Fresco because I work on Fresco.
This project has prompted me to pay more attention to the things around me and to start looking at historical art through a different lens: What if my face was in this painting, would that be funny or interesting? How was this effect achieved and can I recreate it in a copy?
At this point, I have a backlog of art from following art history bots on Twitter, which call out artwork randomly throughout the day, but my choices aren't calculated. Whenever I need something new, even though I have a stream of potential pieces entering my life at all times, I end up choosing whatever catches my eye.
Whenever I look back at my work, I always remember what I was watching or listening to while I was drawing. For the most part those memories aren't related to the subject matter of the paintings, but like an old song or a familiar scent they will take me back to the time I drew them (watching the MAX keynote or spending the holidays with my in-laws).
I finally finished this 100 Day Project in December 2021 and looking back, I can point to a few reasons why it was so valuable:
Focus. I couldn't read the news or really worry about anything going on outside of my iPad while I was trying to make these copies, so it was a very meditative process.
Control and accomplishment. I may not have control over things that are going on in the world, but I can control what's happening in the 2100 x 2100 pixels of the drawing I'm working on. And when I'm done, I have something tangible to show for the time I've invested.
Perspective. So many of these paintings I'm copying take me back to a different time in history, a different time in the world. They're a reminder that difficult times are sandwiched between those that are less turbulent.
After finishing I created a website to house all 100 drawings (in reverse chronological order) along with information about the original artist and brief comments about my experience copying them.
Header copy
Design your career at Adobe.
Button copy
View all jobs