Hacks, hobbies, and side hustles: Analog collage
Marisa Bazan on paper, scissors, and glue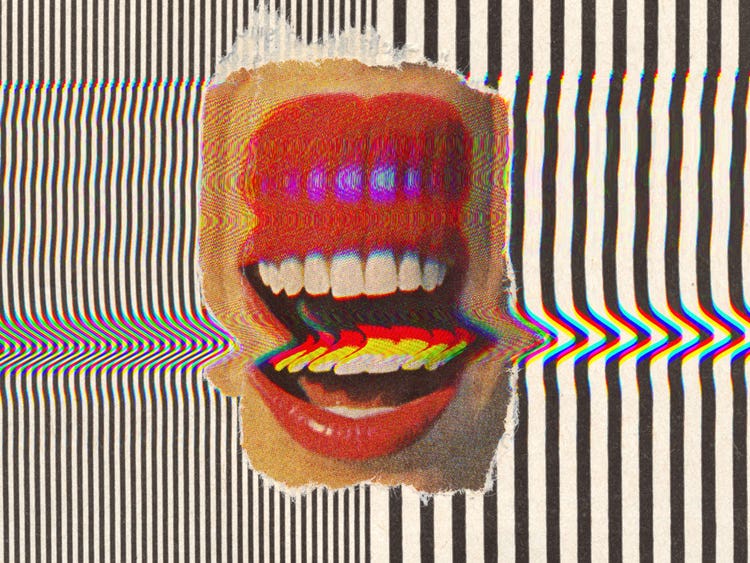 "Vocal Distortion" by Marisa Bazan
Hacks, Hobbies, and Side Hustles is a for-fun internal presentation series that began as a one-time event and fast became a popular way for us to get to know our talented colleagues. It has only two guidelines: finish in five minutes and focus on a passion that exists outside of Adobe. Learn where creativity takes the members of Adobe Design when they're not working.
I studied humanities in school and was always appreciative of art and artists but too intimidated to give it a real shot myself. Then, after graduation, everything changed. I started working full time and quickly realized I needed a creative outlet.
Somewhere along the line I discovered analog collage.
I occasionally take on commissions, but mostly it's a personal creative outlet. For someone with no formal art training, looking through vintage magazines, cutting out pictures that catch my eye, and gluing them down is something I can wrap my head around.
My toolkit consists of an X-Acto knife, a purple glue stick, scissors, and stacks of old magazines and print ads that I find on Craigslist, eBay, and at garage sales... and a never-ending hunt to find materials and inspiration. I've cut through thousands of vintage magazines, dulled thousands of X-Acto blades, lost dozens of eBay bids for old magazines and print ads, broken two scanners, and self-published four zines.
I keep source files (magazines, ads, flyers) in a closet and my clippings in a portfolio box. Then, when I start collaging, I lay everything out on my worktable, and start to think about the story I want to tell that day. I'm hoping to one day have a studio so I can leave everything out, but for now, I pack it all up after each working session to save my desk the mess.
For me, collage has always been about taking images or ideas that have almost nothing in common and creating a story. Sometimes the stories are funny, other times they're not, but there's always something romantic about the synchronicity of two images published decades apart, working together to illustrate an idea and create a new narrative.
That said, the process of creating an analog collage is a lot more serendipitous than people would imagine. Which means, I don't always end up telling the story I set out to tell.
I rely on the proportions of images working harmoniously, making it even more rewarding when there's a perfect fit. Once I find images I want to use, I cut and rearrange them until it works, or it doesn't. Since there is no "Command+Z," it's important to not get attached to a specific concept or image because sometimes projects look better in the recycle bin.
Since presenting at a Hacks, Hobbies, Side Hustles event in 2018 I've had my work exhibited in a couple of group shows, created a website to showcase my collage and photography work, and published a new zine titled "Poached Legs" which was accepted into the Silver Sprocket store (where it's currently sold out!) and the 2021 East Bay Alternative Zine Fest.
Header copy
Design your career at Adobe.
Button copy
View all jobs