Hacks, hobbies, and side hustles: Building character
Sarah Kuehnle on illustration and experimentation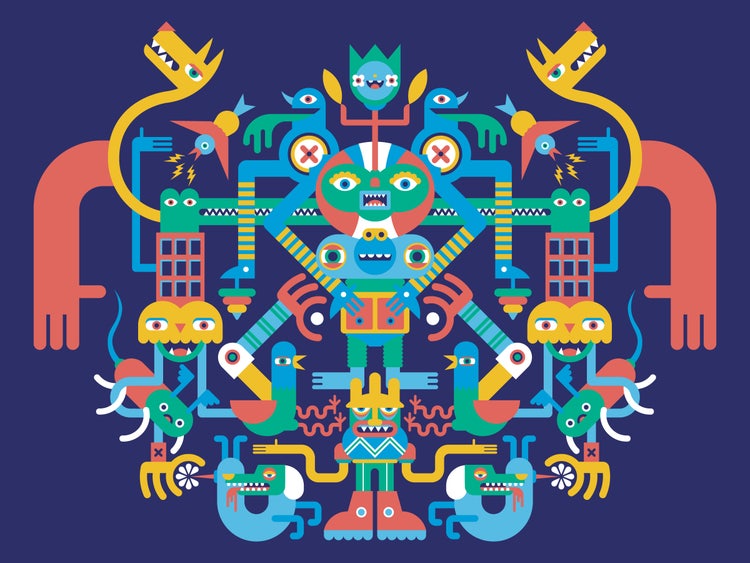 All illustrations (and photography) by Sarah Kuehnle
Hacks, Hobbies, and Side Hustles is a for-fun internal presentation series that began as a one-time event and fast became a popular way for us to get to know our talented colleagues. It has only two guidelines: finish in five minutes and focus on a passion that exists outside of Adobe. Learn where creativity takes the members of Adobe Design when they're not working.
I'm an experience designer on the Adobe Illustrator team. I'm also an artist and creative technologist. My artwork is centered around character design, and I'm heavily influenced by pop culture, cartoons, and art history, especially artists like Sol Lewitt (a minimalist from the US), Hieronymus Bosch, Keith Haring, Joshua Davis, and John Burgerman.
I've always loved to create, but my work changed completely with the release of the iPad, Apple Pencil, and Adobe Photoshop Sketch and Illustrator Draw. Now, with Adobe Fresco, which has become my digital sketchbook, and Illustrator I do most of my work between my iPad and the desktop.
Don't think. Just draw.
I've developed the habit of drawing every day. It began several years ago when I kicked off a year-long personal project called "Don't think. Just draw." that involved sitting down once a day, clearing my mind, and taking 20 minutes to draw something. Every day I would post whatever I drew to Instagram—for feedback and accountability. Eventually I started to see my art evolve. I explored new ideas and directions, started creating things that were more complex, and began to experiment with symmetry and flipping objects to see how they worked in a system.
Do what you dream
In 2018 I chased a long-time dream and applied to the Pictoplasma Academy, a weeklong intensive workshop in Berlin focused on character design. Pictoplasma is a large character design community that holds an annual festival where artists from every walk of life meet for a celebration of character design. Becoming a part of it was a dream come true.
After the Academy, the artists were invited to take part in a group show at the next Pictoplasma Conference. I'd created a digital character-based mandala, but I wanted to do something bigger and more elaborate; I finally decided to bring my digital work into the physical world by recreating the mandala using cut paper.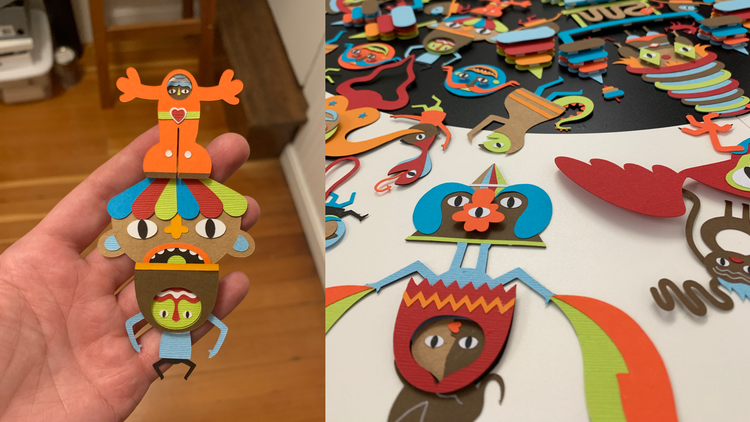 There were some logistical challenges: I had to build each of the character pieces individually (and there were many of them) and practice laying them out. I also had to keep them small enough so that I could easily transport them from Connecticut, where I live, to Berlin, where I would assemble them into the mandala. Participating in this group show was a tremendous honor and watching people get up close so they could see the details in each of the characters was incredibly rewarding.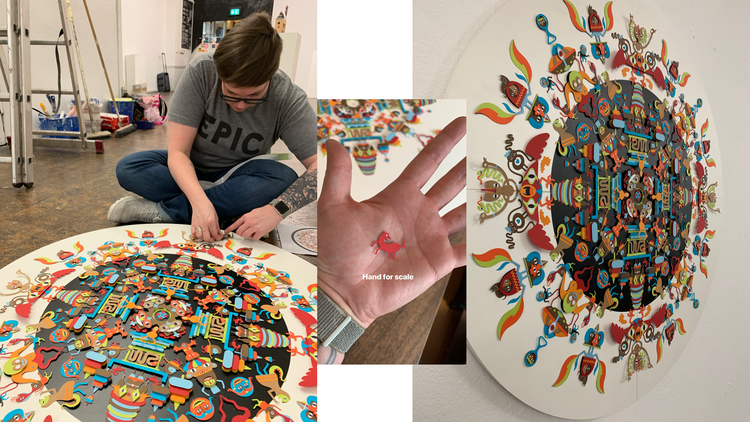 Keep learning
Since then, I've continued to create and experiment every day. I start each day with a warmup (recently that's been drawing versions of albums that I love). Once done with that, I start drawing but never with an end goal or a plan… I just clear my head, start sketching, and see where it leads me.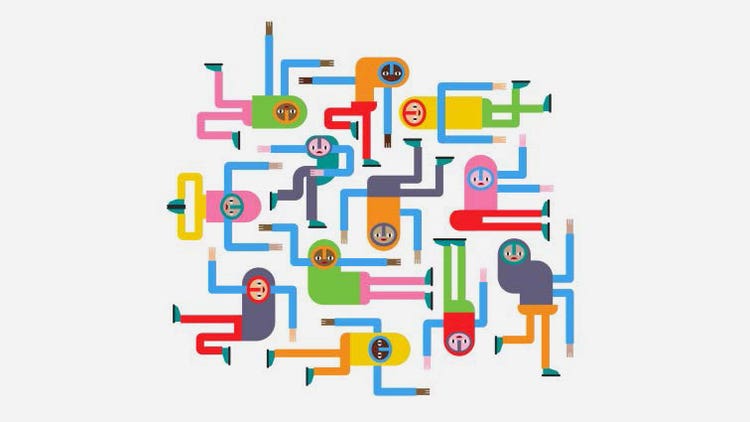 I continue to create character-based mandalas and still do a lot of work with paper, bending and folding it to add more depth and shadow. A piece called Hermetica was one of my larger mandalas—it was shown at Mystic Museum of Art in Connecticut—but I've also created a few acrylic and vinyl mandala masks. I also still do a lot of digital work, including an homage to Mondrian that I've called Broadway Boogie, and keep experimenting and taking my characters in different directions.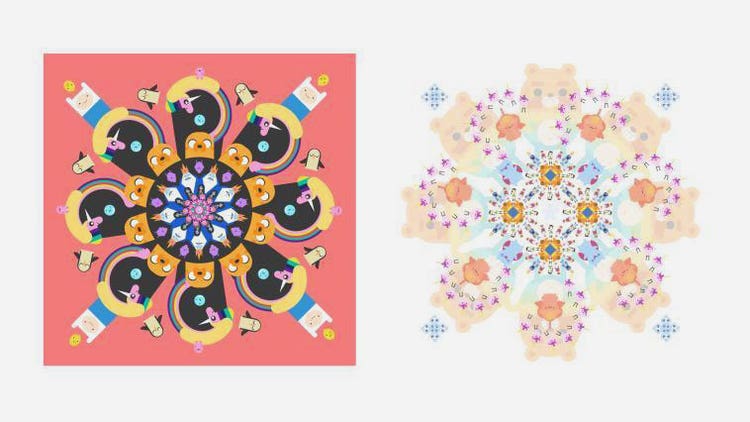 I also love to stream on Behance. I show my works from first sketch to finished product a few times a week, demo new features, offer up tutorials and tips for our apps (especially Illustrator but also Adobe Character Animator, which is hands down my favorite app for bringing my characters to life), and teach and answer questions. I also do a lot of fan art during my streaming sessions, bringing my style, which is very flat, to characters that people ask me about. I recently used a collection of characters from Bravest Warriors and Adventure Time to create a mandala to demo the rotation and repeat features in Illustrator.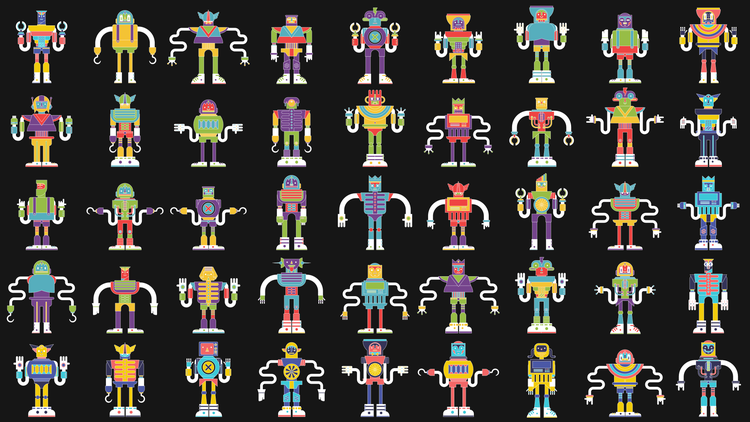 Lately I've been experimenting with what my flat art might look like in a 3D space and playing with lighting and shadows and thinking of things I might like to do in augmented reality and Adobe Aero. I drew a series of robots then wrote code using Processing to create a set of generative robots with randomly assigned names like Norkel Droid and Ping Thor.
Throughout my digital explorations I continue to work with wood, acrylic, and paper; keep an eye out for new projects and collaborations; post to Instagram; and sell my art on my Studio Sooper storefront.
Header copy
Design your career at Adobe.
Button copy
View all jobs