Cheryl Chang
Senior Experience Designer, Adobe Express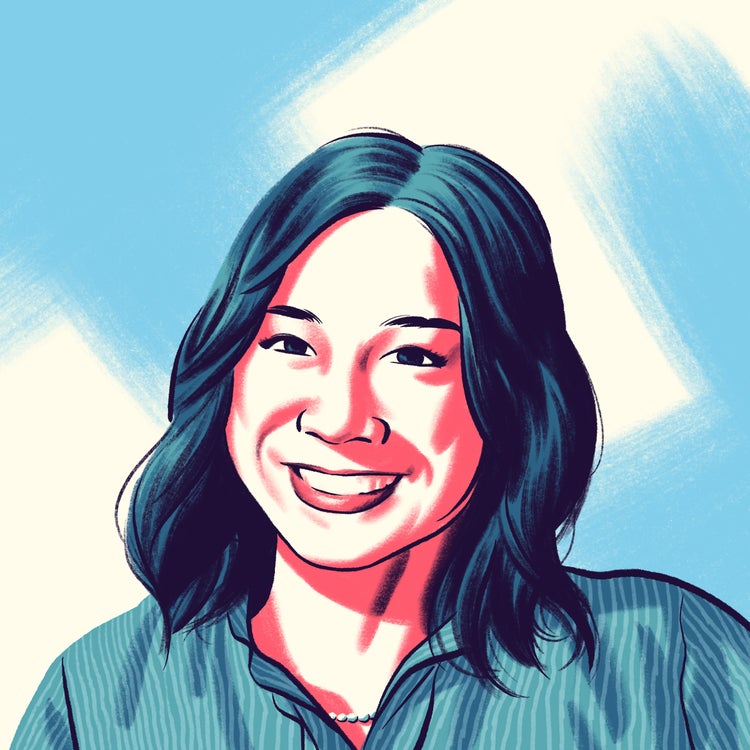 Illustration by Michael Cho
Adobe Design is a large team. We work across products, processes, and tools in different cities, countries, time zones, and cultures and celebrate each other whenever we have the opportunity. Our Profiles are a way to introduce the bright and brilliant folks on our team to the external design community. Spend some time getting to know them.
How would you describe what you do to someone you're sitting next to on a plane?
I help communicators, like social media managers, easily create and organize design documents in a web application called Adobe Express. That's probably enough for most people, but if they were curious to learn more, I'd share about the design process, like the importance of learning and understanding the competitive landscape and our customers' needs.
What was your dream job when you were ten?
I never received formal training, but I wanted to be a professional gymnast. My happy place was at the park or school playground where I could be doing back hip circles and other crazy tricks I'd make up on the bar. To this day, I still love watching women's gymnastics and admire their grit and commitment to the sport.
How do you break creative blocks?
I like to find my creative inspiration outside of the daily grind. Sometimes it's as simple as stepping away from the computer screen and going for a walk or workout. I also draw my inspiration by interacting with friends and family, especially those outside of the tech world and across different age ranges—I especially love hearing the perspectives of my niece and nephews.
At work, my colleagues are also tremendously helpful in overcoming creative mental blocks. This could take the form of an informal review or hour-long working session where we move away from iterating digitally and back to sketching on paper with pencil.
What's your favorite part of your job?
This might come off cliché, but without a doubt, the people! I engage with some of the most passionate and intelligent partners on my team. It's truly inspiring, enlightening, and fun to get in a room (whether virtual or in person) to jam and solve problems together.
What is a project you're most proud of?
Three years into working at Adobe, I had the opportunity to turn a hackathon project into a Sneak submission for Adobe Summit. Our goal was to make it easier for marketers to use augmented reality to give their customers more tailored and unique experiences. We leveraged Adobe's machine learning and personalization engine to target travelers during idle time at the airport. After months of hard work, the most rewarding part was presenting this on the main stage with Mindy Kaling.
Tell us about a project outside of work that you're currently working on.
Earlier this year I learned how to bake, and one dessert in particular kept me curious and engaged: the entremet cake. An entremet cake consists of multiple components encased in mousse and finished with a beautiful, shiny, mirror glaze. The variety of glaze colors, techniques, and filling types make for endless possibilities. Over the past few months, I've documented my journey mastering this cake and am excited to see the results of the accumulation of hard work I've put in over time.
What's your greatest extravagance and why?
The COVID-19 pandemic was a stark reminder that traveling abroad and experiencing different cultures is an extravagance not to be taken for granted. This year my husband and I will be going on our postponed honeymoon, and we feel fortunate, excited, and even a little nervous to be able to experience the beautiful Italian countryside.
Header copy
Design your career at Adobe.
Button copy
View all jobs