Dej Mejia
Staff UX Designer, Adobe Commerce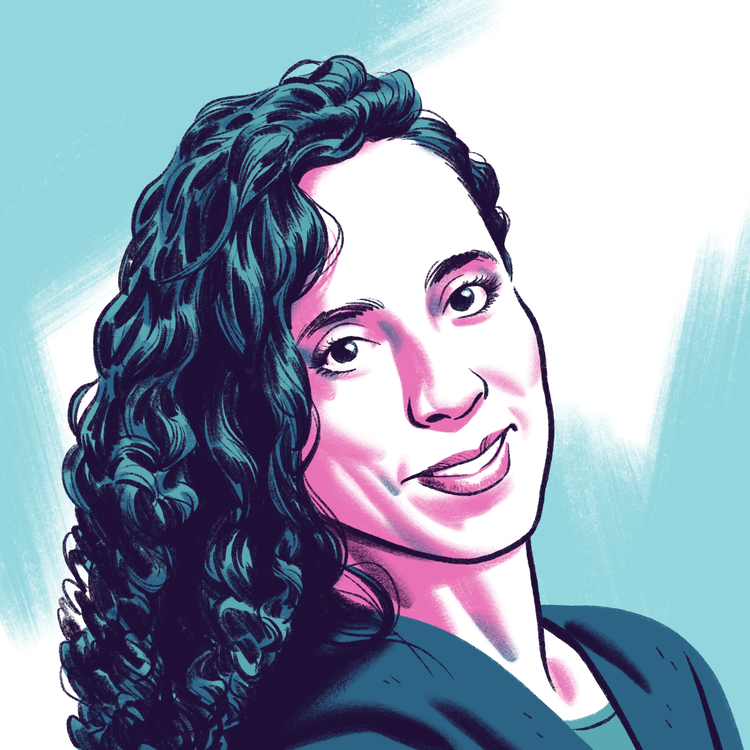 Illustration by Michael Cho
Adobe Design is a large team. We work across products, processes, and tools in different cities, countries, time zones, and cultures and celebrate each other whenever we have the opportunity. Our Profiles are a way to introduce the bright and brilliant folks on our team to the external design community. Spend some time getting to know them.
If you were going to switch careers and work as a tradesperson, which trade would you choose? Why would you choose it?
A hair stylist. I find the science behind it fascinating: hair porosity, density, the geometric lines and angles of a cut based on desired outcome, hair type, and texture. I've learned that no matter what the marketing is to promote a hair product, whether it will "work" comes down to the ingredients in the bottle and the needs of each individual head of hair. Hair needs also change over time based on so many factors, like age; there could be a lot of fun data-driven ways to help navigate hair (I may have started a spreadsheet for my own). Figuring out how to help clients achieve their desired results would be very satisfying, even if I'm standing for hours on end every day.
What has your career trajectory been? A straight shot? A maze of switchbacks? Or a knot you've untangled? Would you change the route?
My career has been a Halloween candy bag: there's likely candy in the bag, but it's unclear what kind it is until it's dumped and sorted out. When I got started, UX didn't exist as the discipline it is today, and roles fell under a broader design umbrella. Companies wanted a "unicorn" or "ninja" who could make things "look nice," but who could also code and do user validation, sometimes after the product was already built and difficult to change.
I wouldn't change this career path because it helped me create a better sense of both where I excel and what is most rewarding for me. I've been able to pursue the aspects of the UX practice that I most enjoy, like collaborating with cross-functional teams to problem-solve and decide what we can and should build together in service of our users. These experiences helped pave the way for me to present our team's novel commerce concepts at Adobe Summit Sneaks in 2021. There's still so much to learn and do in the field of UX and I'm excited to see how our unique strengths continue to inform product design and other digital spaces.
What was your dream job when you were ten?
Card and T-shirt designer. Inspired, as many were, by the possibilities of the glitter glue paint bottles of the time, my childhood friend and I created unsightly T-shirt designs with rad slogans, mostly derived from She-Ra and G.I. Joe. The tactic was to push a T-shirt sale when my mother's bakery clients picked up their cakes. The paint designs peeled off in the wash almost immediately and I think we were losing money on every sale. Later, we pivoted to greeting cards with equally unimpressive designs, and eventually abandoned our enterprise altogether when we moved on to sixth grade.
What do you do when you're struggling to focus?
I make a plan. There's usually something holding me back from focusing, like having too many unprioritized to-dos, or problems that seem nebulous that I subconsciously register as scary. Especially when a problem seems insurmountable, I make a plan to just get started with a piece of it and set a timer for 30 or 40 minutes to see how much I can get done. From an Adobe for All Week session, I learned to avoid context switching by disabling notifications and intentionally blocking my calendar for focus time. During these time blocks, my concerns about the work in question eventually dissipate as I get into a zone. If I have questions or knowledge gaps, I document them to remind myself that tracking this discovery is also progress.
Sometimes the output during those focus times is solid and I can walk away for a bit to allow the developments to settle. Other times I become enthusiastic about continuing and staying in the zone. Both outcomes help me understand the project and focus on what the next steps and opportunities are.
What would you try if you knew you would not fail?
Open a ballroom dance studio and return to competitive ballroom dancing. I would get certified to teach my favorite dance styles for all age groups. The studio would have glass water dispensers with floating orange slices inside, and a bowl of mints handy to support more pleasant close-proximity dancing. It would be less Strictly Ballroom, and more Shall We Dance (1996). There is so much joy in movement and group dance.
What's your greatest extravagance and why?
I bought several custom linen wrap shirts from Europe and paid much more for them than I typically do for clothes. Surprisingly, linen clothing in bright colors is hard to come by, and this shop had the best selection. I was happy to support a small women-owned businesses while staying cool and presentable in the summer heat. Who could pass on colors like greenish mustard?