Mallika Yelandur
Group Program Manager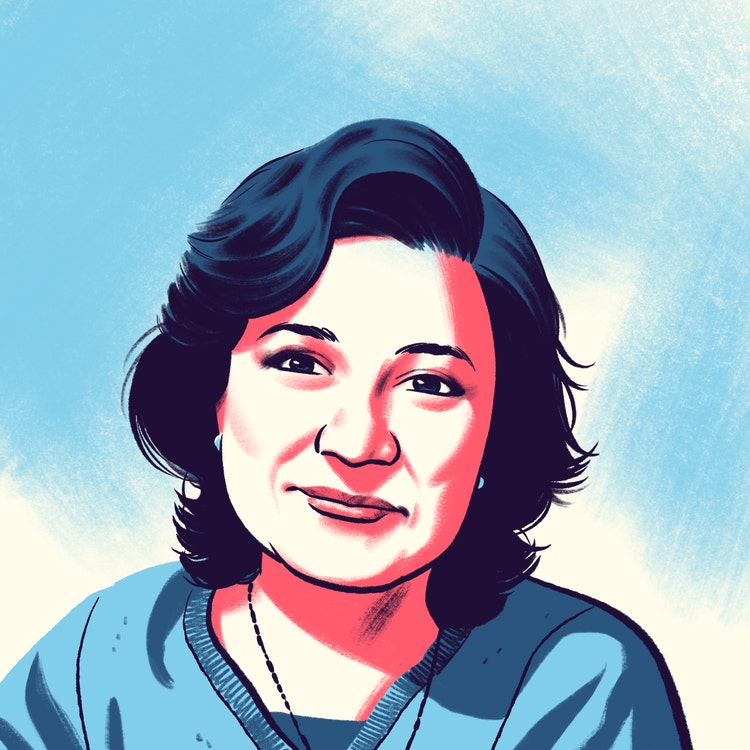 Illustration by Michael Cho
Adobe Design is a large team. We work across products, processes, and tools in different cities, countries, time zones, and cultures and celebrate each other whenever we have the opportunity. Our Profiles are a way to introduce the bright and brilliant folks on our team to the external design community. Spend some time getting to know them.
How would you describe what you do to someone you're sitting next to on a plane?
I manage a group of design program managers working across Adobe Creative Cloud and Document Cloud. Program managers work closely with designers, engineers, and product managers to help drive the creation of the best user experiences possible for Adobe's apps.
What was your dream job when you were ten?
There wasn't just one, and they were diverse: from writer to doctor to cobbler.
Do you have a degree that "matches" the career you're in now?
I have a degree in management, and it's served me quite well. It's helped me to better see points of connection, action, and impact so I can more easily connect design efforts to Adobe's business strategy. It's also helped me to understand the importance of articulating not just how we're doing something, but why we're doing it.
What's a project you're most proud of?
There are several projects that I'm incredibly proud to have worked on. If I must choose one, then I'd say it was a project I worked on a couple of years ago to bring Adobe Illustrator to the iPad. Reimagining the 30-year-old desktop application for iPad called for one of the largest transformations ever for Illustrator. It required a tremendous amount of collaboration and execution between design, product, engineering, and research teams in India, San Francisco, and New York. The app received many accolades, but it was an especially proud moment for the team when it won a Webby!
What's the best thing about working from home? What's the worst?
The best thing about working from home is that I don't need to be on the road for two or more hours battling Bangalore's infamous traffic. The downside is that I really miss hallway chats between meetings, and casual conversations with my team. The hardest part about working from home, though, is how difficult it is to switch off from work. Given the fuzzy boundaries between work and personal time, tuning-out at the end of the day requires a conscious effort.
If you could get everyone to agree, what would you change about meetings?
I'm a big advocate of less is more when it comes to meetings. Communication stress grows exponentially with geographically distributed teams, so I always try to question the purpose of every meeting. If there's no pressing need for everyone to be present at the same time, I opt for a group email or message so everyone can respond at whatever time works best for them.
Who/what inspires you? Why?
Traveling and meeting people from other places helps me develop a broader world view. I always come back inspired and with a deeper appreciation for a different culture, a new language, or a regional cuisine.