What does a principal designer do?
Val Head on collaborating across teams, working with good people, and creating cute pet portraits that help shelter dogs find homes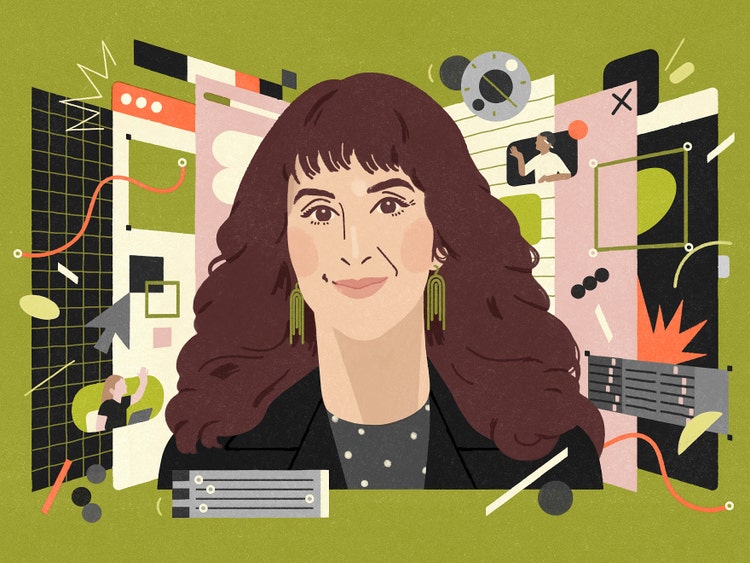 Illustration by Gracia Lam
We design and refine the Adobe tools and experiences that millions of creative people use every day. In this series, we introduce the bright and brilliant people behind the products:

At Adobe, principal designers are thought leaders, visionaries and evangelists who think deeply about their industries, forecast trends, and bring attention to our work. They are also entrepreneurs, innovators, and strategists who present new business ideas and lead new initiatives, but most importantly, they are subject matter experts who partner with teams across Adobe Design.
What do you do at Adobe?
My title is Principal Designer, Unified Motion & Animation and my focus is working with different teams to help shape motion tools in our products (everything from GIFs and animated text to motion animation and video). I work across Adobe Design to help to build connections between different teams working on motion, to look at how we handle motion tools across our products, and to think about how to give people as much motion capability as possible without it being overwhelming. I get to dig into interesting problems like how we handle motion on the web and in different tools, and how AI might change motion work.
What's your team working on?
Most recently, I've been working with the Adobe Express team to build a new system of animation tooling for the latest release, which includes looking at how motion and animation features will scale as the product evolves. I really like the system we built and our plans for scaling it into even bigger and better things. A lot of smart people have been working on it, and it was just a wonderfully collaborative experience—with engineering, product, content strategy, and design folks alike—so it's exciting to see it out in the world.
I've also been working on an up-and-coming project looking at the future of video editing and motion design for a professional audience. I don't think it's possible these days to think about the future of any technology without looking at how AI might affect it—so this project is especially interesting because of that.
What essential tool, product, or platform helps you do your best work?
For me it's a notebook (or my iPad) and pen. I always have it with me and often feel like it's my brain—if I draw or write something, I'll remember it, but if I just try to keep it in my head, all bets are off. My memory is very visual so I have to write things down or scribble messy sketches, that I can go back to when I have a couple of hours of focus time, to really work through them.
Also, I'm fully remote and I work with a few different teams so I really couldn't manage without Slack and Microsoft Teams. It's how I keep in touch with everyone. Especially the one team I'm working with right now, we have folks in India, Australia, and on both coasts of the US. We're rarely all going to be in the same meeting at the same time, so asynchronous is the name of the game—and Slack works especially well for that.
What skill do you consider a superpower?
I think my current superpower is my ability to be a meaningful member of multiple teams simultaneously. The focus of my role means splitting my time across different teams, and I feel like I really am part of each of them—even though I'm not "officially" on them. I'd like to think that the other people on each team feel that I'm truly part of their team too. I'm genuinely interested in the problems those teams are trying to solve and excited about how we can build great solutions for them together. To me, this makes my day-to-day much more interesting even if it isn't typical.
What's on your heads-down time-to-focus playlist?
According to Spotify, it's been mostly moody atmospheric music lately, like Low, Kælan Mikla, and A.A. Williams. I think it's because I've been working on multiple design problems at the same time and the music just kind of keeps me going without being distracting. There are vocals but also layered soundscapes, so it creates a nice space to think in and keep momentum going.
What's the best professional advice you've ever received?
I'm trying to remember exactly how it was phrased but it was along the lines of "you'll do your best work with good people." It's advice I got years ago while I was working at a small agency, and it took me a while to fully appreciate that the people you work with can impact your ability to do your best work.
You could be working on a project that you're super excited about but if you're dealing with a toxic culture, impossible politics, or worse, it's hard to do your best work. Those other things take up too much of your energy. They wear you down and lead to burnout fast. That's not a good place to be. But if you're working on a team where there's a foundation of trust and psychological safety you can do your best work and amplify each other's skills.
The advice has led me to be more intentional when changing jobs—or taking on new clients when I was a consultant—throughout my career. It's also a big part of why I strive to foster team culture. To me, the job of a Principal Designer is to elevate the work and elevate the people around you. The more senior your role, the more potential you have to affect team culture, even if you're not a manager.
What excites you most about the work you're doing?
Before joining Adobe, I spent years as a consultant teaching designers and design teams how to use animation as a design tool in their work. How to talk about it. How to do it. That was great, but now that I'm here, I get to work with product teams on how we can make those motion and animation tools more approachable. It's exciting because I know how much people struggle with motion and animation even when they're trying to do something simple. Having it be a part of my job to shape those tools for the future, and to translate some of the power of our products so people can make motion that they're proud of, is exciting. I feel fortunate.
What's a dream project you're currently involved with or want to take on?
I recently started a dream project of mine—taking dog portraits at a local animal shelter. I've always loved dogs and photography, so I've been having such a great time putting them together. Once a week I hang out with my camera and some treats and take photos of the dogs in a portable studio set up. It's a fun creative outlet and rewarding to work with dogs. They're all very good models and the portraits help them find families.
Header copy
Design your career at Adobe.
Button copy
View all jobs