What does a product equity senior product manager do?
Mariah Driver talks about feeling connected, working at the pace of good health, and how her team always tries to do "just a little bit less"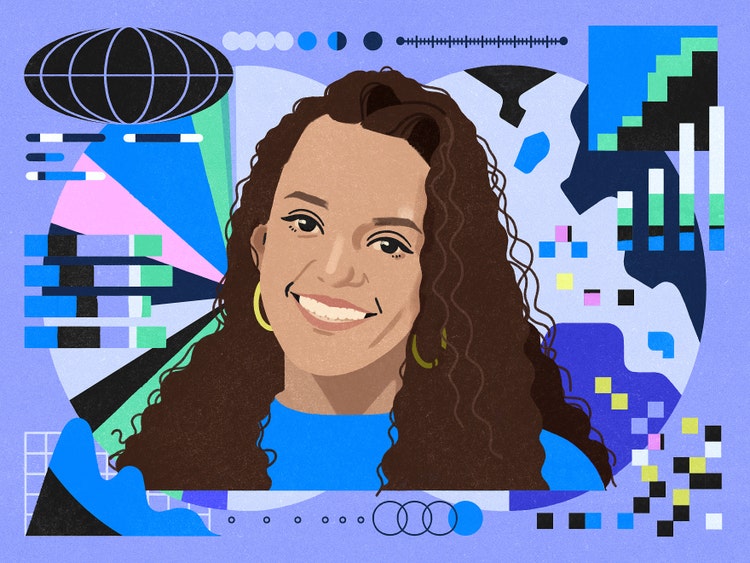 Illustration by Gracia Lam
We design and refine the Adobe tools and experiences that millions of creative people use every day. In this series, we introduce the bright and brilliant people behind the products: Meet the members of Adobe Design.
What do you do at Adobe?
I'm a senior product manager on the Product Equity team where I lead efforts to help product teams reduce harm and bias during the product development processes. To achieve more equitable product outcomes, it's crucial that we center equity at every stage of product development: people + process = product.
Developing awareness and using shared language are vital to helping everyone understand that product equity isn't just an optional "feel-good" effort, but rather an essential aspect of delivering on Adobe's mission to create high-quality and valuable products for our customers. To establish a baseline of product equity awareness, knowledge, and engagement across Adobe Design, I created an onboarding curriculum to introduce new hires to equity concepts. This mandatory training ensures that equity and inclusion are integral to everyone's thinking from day one. The curriculum covers existing systems of oppression in design, which often go unnoticed and can impact who benefits from our products, as well as how certain product development processes can lead to exclusion and harm. It orients people to how we define equity in the context of our products, why it matters from both a business point of view and a moral one, and what role every person plays in terms of advancing equity and reducing bias in the products we're releasing into the world.
While training is one part of the equation, we also aim to design systems that support employees in effectively applying their newfound knowledge and skills. My next focus is to shift teams from merely acknowledging the importance of equity ("I believe it's important to center equity in my work") to actively practicing equitable approaches ("I know how to center equity in my work, and I do it every day"). To achieve this, I started the Operationalizing Equity initiative in collaboration with my research colleague, Es Braziel, to teach Adobe Design researchers about equitable practices and equip them with the tools to incorporate equity into their work processes. We're taking a unique approach by creating inclusive design and product equity curricula, programs, and processes tailored specifically to the research team's needs (with plans to expand to design, product management, and other disciplines later).
The project has two main components: The first is education and enablement, figuring out what people need to learn and do to ensure research is conducted in a way that's reaching a diverse audience and creating and generating the type of insights and data that enable informed product decisions for those audiences. The second is developing systems and processes that standardize research practices so that those methods continue to make it easier to conduct research in a way that's equitable and inclusive for diverse and historically underinvested groups while mitigating experiences of harm and bias that a lot of those groups face in typical research environments.
What's your team working on?
So much, but a couple of things stand out for me. We're developing scorecards for a Product Equity Maturity Model, a unified system for measuring and collecting data that we can use to audit and assess products, processes, knowledge, and team and individual practices to determine the extent to which we're driving equity or creating harm and reproducing bias. There are three levels to that work:
How do we assess the maturity and equity level of our products?
To what extent is equity considered, centered, measured, and prioritized in our product development processes?
What do individuals know and how are they practicing equity in their day-to-day jobs and to what extent are teams enabling and promoting that work?
This "scoring" is fundamental to our work. We're a small team working across many different products and if we have no way of measuring and benchmarking current states, opportunities, and gaps, and no way of measuring progress over time, we can't know whether we're prioritizing the right things or if the interventions we're putting in place are translating to people's product experiences. I haven't seen other teams in our industry, or any other kind of product equity or inclusion team, do this successfully and it's because it's so incredibly difficult to scale. But if there is no scorecard there is no accountability.
Correspondingly, we're embedding with and supporting product teams developing or iterating on new products, like we did with Adobe Firefly. As a team we're always trying to do a little bit less—make things a little bit less harmful. Whenever we can do that, it's a win. This work comes down to teaching teams to codify decisions and take responsibility for prioritizing people's experiences with our products. I don't think we'll ever be able to prevent every person from experiencing every kind of harmful interaction with technology, but I do think that our being involved will at least make it a little bit harder for product development processes to prioritize speed and efficiency over people.
What essential tool, product, or platform helps you do your best work?
The IT department is going to come for me, but I love Google's suite of tools (Docs, Slides, all of it). But if I had to choose just one product, it would be Slack, which helps me do my best work because it keeps me connected and allows me to keep up with what's going on and engage with people around the world. I get a lot of benefit from feeling connected with people, and the more immersed I am, the more I thrive. I think that's the common denominator between Slack and G Suite, they make collaboration easy and inspire me to be creative. They would be the last things I'd want anyone to take away from me… because it would make my life so much harder.
What skill do you consider a superpower?
The ability to elevate people and make them feel big. It's a trait that's especially uncommon in the workplace because the default tends to be trying to make ourselves look bigger. It's also a quality I see in the people I admire most (like my mom) and it's a superpower because it's exponential. People who just by being present, curious, engaging, and authentic make other people feel valued, elevated, and important can change the world. It's one of the most life-affirming qualities someone can have.
What's on your heads-down, time-to-focus playlist?
I've been really into not listening to music while I work, but if I am listening to it, my Spotify playlist says it's Polo & Pan, Solange, and Sza. Those are my tops.
What's the best professional advice you've ever received?
Work at the pace of good health. It was from Nicole Sanchez, who at the time also worked in Diversity, Equity, and Inclusion, and it was at a time that I was burning out. She reminded me that if I'm doing so much that I burn out in the short term, it doesn't really matter how much I do because it's not sustainable. It's a reminder that if my work requires me to compromise on taking care of my dog, taking care of myself, or taking care of my relationships, then something is wrong—because inherently those things shouldn't happen.
What excites you most about the work you're doing?
What's most exciting is that our team is trying to do something that's not been done before. There's an inherent excitement that comes with taking on or trying to solve a problem that everything around us says is impossible. And I'm most excited about solving these complex problems because I have faced them so many times as a Black, disabled woman who is not the "average" user for most products, and therefore, not seen or served by them.
Knowing that we have a chance to make it easier for someone like me to find a product that's built for them makes the ambiguity and uncertainty and challenges of the work so worth it. I'm also glad that our leaders give us the space and encouragement to share what we learn, which means our impact is not limited to Adobe because we're committed to not keeping what we're doing to ourselves but instead trying to share it as much as we can and make it easier for other people to do the same. We're on our way.
What's a dream project you're currently involved with or want to take on?
I've been learning how to make polymer clay jewelry. I'm about two months in, and it's been fun and there's a lot of joy just from seeing people appreciate and wear it. But ultimately my hope is to be able to make enough of it so I can sell it and donate the money to an organization in my community that that's doing work with women and children facing homelessness. For now, though I'm just going to enjoy making it.
A dream work project would be to create some kind of crowdsourced dashboard for corporations to track, measure, and create benchmarks for equitable practices and products so there could be some level of accountability or transparency about where companies are in this work. Any time there's been massive progress to social impact in the tech space it's been a result of companies disclosing information. It creates an incentive for companies to improve and offers a competitive advantage to the companies doing the work (versus those saying they're doing it). Just thinking about it makes me hopeful.
Header copy
Design your career at Adobe.
Button copy
View all jobs