What does a senior lead design strategist do?
Alison Mora on ambient noise, disrupting the status quo, and the very smart, very kind, very genuine people at Adobe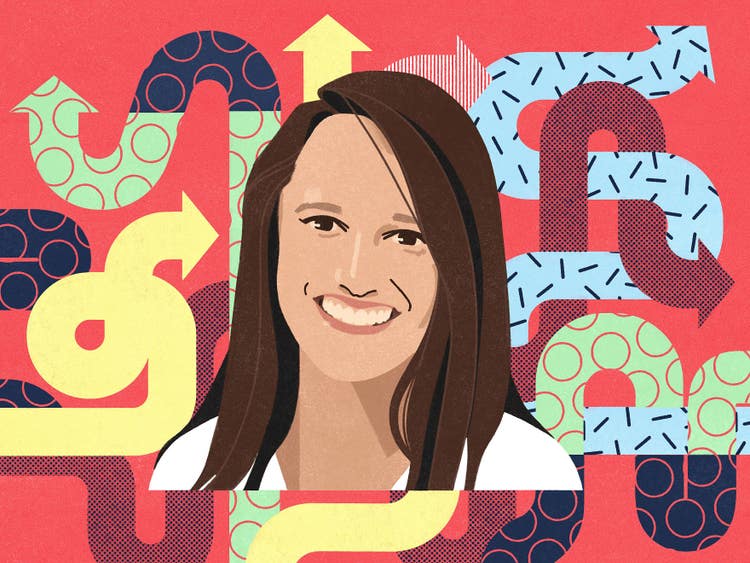 Illustration by Gracia Lam
We design and refine the Adobe tools and experiences that millions of creative people use every day. In this series, we introduce the bright and brilliant people behind the products: Meet the members of Adobe Design.
What do you do?
I do design strategy here at Adobe, which means helping solve big ambiguous questions at the intersection of business needs and human needs. I specialize in strategy, vision and product design concepts that are three to five years down the road. The kinds of problems I typically focus on are ones that don't neatly fall in our org chart today. I'm not working on the future of Adobe Photoshop—that's the Photoshop team's job—I'm focusing on questions that span business units, platforms and products: How can Adobe better help brands create, deliver, and measure mass amount of personalized content at scale? How can we better incubate and grow new businesses at Adobe? What might the creative and marketing industries look like in three years with the expansion of generative AI?
Design strategists typically have hybrid backgrounds, with one foot in business and the other in design and social research, that help us develop long-term strategies in complex business spaces. We look at problems from a design standpoint—imagining and creating how future products might look and feel—then figure out how to structure disparate things and synthesize them into concepts that make sense. We approach problems with an eye toward designing better, simpler, more powerful experiences for the people who use our products and services , while staying true to business constraints and opportunities.
We're often brought in at an early stage to help solve problems when there isn't a clear approach to solving them. Some of these are short term strategies while others are long-term scenario planning. All of them involve predicting what a particular product landscape might look like, where trends are pointing, what might have the biggest impact on our business, and which direction something might go. Based on what we find, we create a strategy that positions us for the future and design concepts for product experiences that deliver on that strategy.
What's your team working on?
I don't have a formal team, but every project I work on, I form a team. My closest collaborators are design, corporate strategy, research, engineering, and product, so we have a lot of different types of thinkers tackling a problem. If a challenge is somewhat ambiguous, it will often make its way to me. That can include things like improving the content supply chain (how brands create mass amounts of personalized content), where we look across our platforms to strategize about how we can help people who create, use, and manage thousands of assets and collateral pieces, do their work in a faster, more efficient, and more personalized way. Essentially, how can we help make the process and therefore people's jobs less tedious and more thoughtful?
What essential tool, product, platform helps you do your best work?
I'm in Miro, Adobe XD, and PowerPoint (not my favorite, but I can make it work better for me with Creative Cloud Libraries extensions), Airtable, and Dropbox Paper most of the time. But frankly I often do my best thinking live whiteboarding with a team or with pen and paper—I'm a sucker for a good dot grid notebook and the perfect chisel tip marker.
What skill do you consider a superpower?
I wouldn't say it's just one. To do this job well, it sometimes feels like it takes a set of skills to make up a true superpower:
An ability to simplify ambiguity and complexity. Strategists need to be able to synthesize partial (and often complex) information so they can explore it and share it in a way that's manageable, visual, and understandable: An insightful structure brings clarity. A great story makes it sticky.
Being hyper collaborative. I can work with almost anyone. Gnarly problems with a wide range of stakeholders means I have my work cut out for me in getting people to agree on a shared set of beliefs, a sense of urgency, and the view of the path forward. I've found the best way to bring people along on a strategy is to have them co-create it with me so they can go through the same journey of insights and decisions at every step and see their own handprints on the work. Great collaboration builds a coalition around a shared strategy.
Having honest positivity. I focus on early-stage stuff—the kind of problems where the default answer isn't known or the path forward seems murky at best. To bring people along requires a deep well of positivity paired with trust. The projects design strategists take on could seem like big, overwhelming problems, but in the face of a whole lot of "not possibles," believing there will always be a path forward—if we can envision enough lily pads to jump between—is important. That and being able to laugh and connect with each other in the face of impossible requests and looming deadlines. Good humor has a way of lifting the weight of it all.
What's on your heads-down, time-to-focus playlist?
I don't usually listen to music while I'm super heads-down because I need to focus both the verbal and visual parts of my brain on the problem at hand. But I also can't function in a place that's too quiet (I was never someone who could go to the library). I'm great in coffee shops or next to an open window so I can hear birds and cars and the wind. I guess I'd have to say that ambient noises are my go-to playlist—not a specific song that I want to start singing to, but also not distracting silence.
What's the best professional advice you've ever received?
They weren't given to me in the context of professional advice, but there are two axioms I live by: The first is from the CEO of the consulting company I joined out of college, "Strong opinions loosely held." It's a great reminder to express opinions with full force but to always be open to new ideas or other ways of thinking. Being able to change your mind or reassess your position based on new information doesn't mean you're easily swayed or didn't do your research. The other, my father repeated often while I was growing up, "You're always selling, whether you think you are, or not." What he meant was that even if you're not a salesperson, you're always selling yourself in any interaction you have—showing the people around you who you are and the value you bring. So be proactive about speaking up, sharing opinions, asking hard questions, acting like a leader, and showing you're easy to work with, and others will be sold on you. When people are sold on you, they buy into your work and seek you out for great opportunities.
What excites you most about the work you're doing?
The things that I love about my job are also what excite me about it: the continuous learning, strategizing, and collaborating. But it's particularly exciting at this moment because everyone seems ready for disruption. In the past, I sometimes felt that I was the one largely focused on disrupting the status quo. But the tides have turned, and both collaborators and partners are thinking about what certain spaces will look like three to five years out so we can disrupt them before we get there. Whether we do or not, it's been nice in a lot of ways to have just so many opportunities. No one ever gets bored when they take on gnarly projects.
What's a dream project you're currently involved with, or want to take on?
I believe strongly that who you work with matters more than what you work on. A dream project is any project that has a dream team. If I'm working with great people, I genuinely am unconcerned about the topic (I'm fairly problem agnostic and can get excited about almost anything that has the potential to impact people's lives). And that what's nice about Adobe… there's a high caliber of very smart, very kind, very genuine people who are all just trying to do what's best for the business and be themselves along the way. So, it's been very easy for me to find a lot of dream teams and dream projects here.
Header copy
Design your career at Adobe.
Button copy
View all jobs