What does an AI/ML experience designer do?
Veronica Peitong Chen on the shifting creative landscape, bringing new technologies to user experiences, and the advice she received at undergrad orientation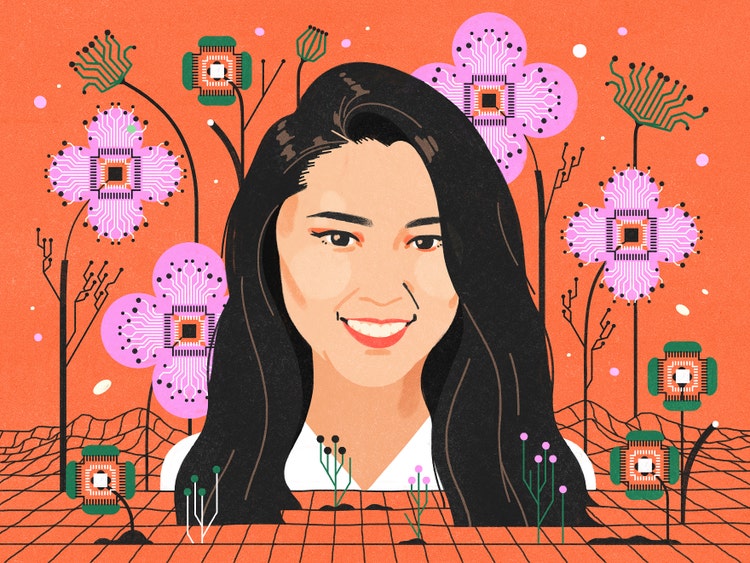 Illustration by Gracia Lam
We design and refine the Adobe tools and experiences that millions of creative people use every day. In this series, we introduce the bright and brilliant people behind the products: Meet the members of Adobe Design.
What do you do?
I'm an interdisciplinary experience designer working at the intersection of design and emerging technology, specifically around artificial intelligence and machine learning (AI/ML). As these technologies are increasingly shaping the world around us, there are three things I've been actively investigating:
How might we empower our users and their creative journeys with AI/ML as it becomes a new type of design material with the potential to be adaptive, collaborative, and intelligent?
How might we create guardrails or principles that can help a system powered by AI/ML be more interpretable, sustainable, and empathetic?
How might we design new interaction models and patterns that play an intermediate role between technology and users, while translating them to be practical, interactable, and enjoyable?
What's your team working on?
Our team is MINT (Machine Intelligence Design & New Technologies), and we are the center of gravity within Adobe Design for stewarding machine intelligence innovation and new technology experiences. As a part of the core generative AI team, our goal is to reflect AI/ML capabilities by empowering existing experiences and identifying new opportunities. As the development of AI/ML continues to shift the creative landscape, and evolves into a new type of design material, we're responding to technological advancements by developing holistic design strategies with a humanity-centered approach.
What essential tool, product, or platform helps you do your best work?
I couldn't work without Notion to focus on the practicalities of daily tasks and productivity: It allows me to manage assignments, track timelines and goals, and look back at past projects. As for something not-so-productivity-focused, there's Google Colab. It's a platform that allows people to run and experience machine learning models with Python code. To stay updated on new industry trends and technology improvements, it's valuable to use Colab to test out new models in order to understand how things work and how they could be translated into user-friendly experiences. It's been quite helpful since I first entered this field.
What skill do you consider a superpower?
Two came to mind: communication and vision. Communication allows us to connect and share and is essential for forming relationships, building trust, solving problems, and creating meaningful changes in the world. But also a superpower is the ability to connect dots and envision the future. Being able to think creatively, to see connections and patterns and envision new possibilities, is essential for innovation and progress—it's especially critical when working with AI/ML.
What's on your heads-down, time-to-focus playlist?
According to my 2022 music wrap-up, in the morning I listen to cozy, mellow jazz (perfect for quiet East Coast mornings); in the afternoon it's hyper-lit empowering dance tracks (which is really energizing); and toward the end of the day, it's classical music (Beethoven was one of my top five musicians in 2022).
What's the best professional advice you've ever received?
I've benefited most from the advice, given by a professor at my undergrad orientation, to treat every project as an opportunity to represent ourselves as designers. Almost a decade later, I've never regretted heeding her advice. To this day, I complete every project to the ultimate of my ability so it reflects my design skillsets, my thinking, my perspective, and my passion.
What excites you most about the work you're doing?
It's a transformational time; AI/ML technology is rapidly advancing and it's creating a critical opportunity for designers to further tighten the gap between technology and user needs. It's incredibly exciting and rewarding to take part in creating innovative solutions that translate cutting-edge technologies into tangible and helpful user interfaces.
What's a dream project you're currently involved with, or want to take on?
I'm incredibly humbled by all the projects I'm involved with! Most recently, our team launched Adobe Firefly, where I helped shape the generative AI-powered user experience with creators in mind. Similarly, we're solving complex problems that require considered solutions for bringing the next wave of Artificial Intelligence to Creative Cloud. In the past, I also designed an object-centric image editing experience for Project Stardust, where objects in images are tangible, movable, and manipulatable.
Header copy
Design your career at Adobe.
Button copy
View all jobs