So you want to find, or be, a mentor
How we make professional connections that matter at Adobe Design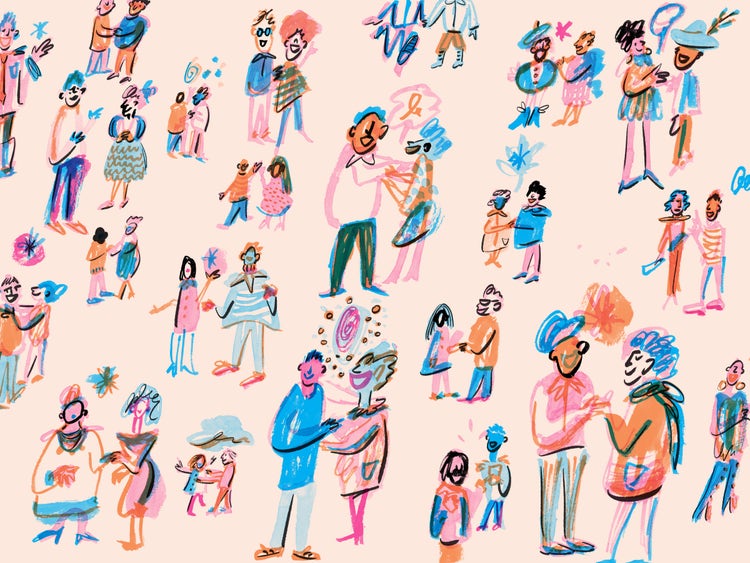 Illustration by Daniel Gray-Barnett
Mentorship is an amazing way to make meaningful connections, but establishing—then navigating—them can be a lot. Where to begin? And what happens once you've met your match?
We've created a dedicated internal program at Adobe Design to streamline the process and cultivate these unique professional relationships. We pair mentees with mentors across our diverse global teams; help them articulate individual and shared goals; and guide them through achieving those objectives together.

Whether someone is looking to learn or lead, we're here to support them on their journey. Here's how we've structured our mentorship opportunities, from intake to fulfillment, to make the most of every one—and everyone.
What we mean when we talk about mentorship
One of the coolest things about mentorship is just how customizable it can be. While there's no one-size-fits-all approach, we use the following categories as a kind of flexible framework, then adapt as needed.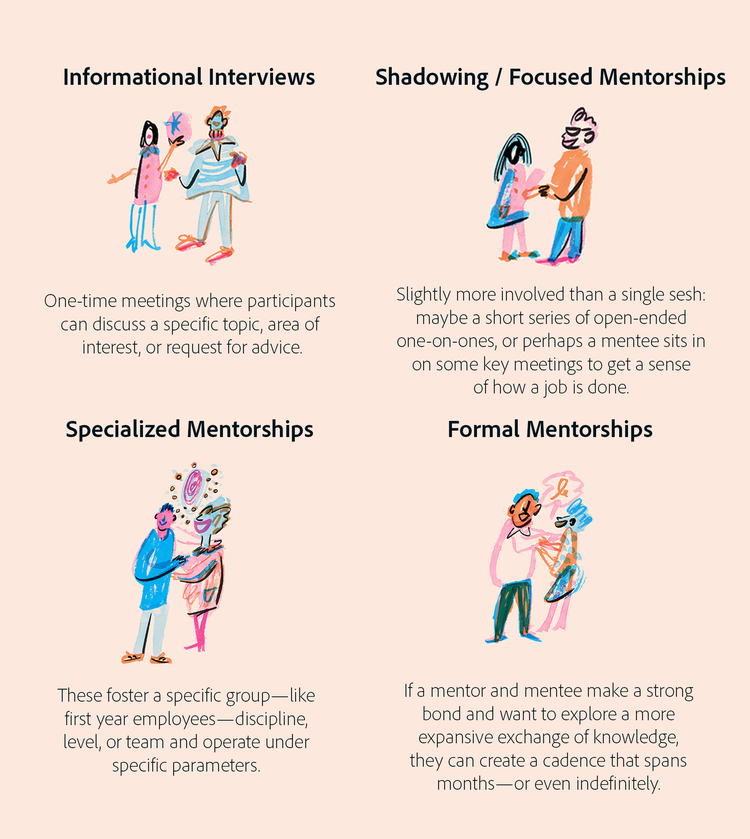 Getting to know you (getting to know all about you…)
Successful mentorships start with you! Between the mentees (those looking for guidance) and the mentors (those with insights to share), everyone brings their own background and experiences to the partnership.
Our intake form is the first step. Here, we'll ask people what category of mentorship interests them (from the image above) and provide room for them to tell us why they'd like to get involved in the program. All answers are valid, and all are welcome—but we do appreciate specifics. The more clarity we get in these responses, the more opportunities we'll have to find a great fit.
This is also a chance for people to articulate whether they'd like to link up with someone who's a member of an Adobe Employee Network; these include Access at Adobe, Asian / Pacific Islander at Adobe, BEN at Adobe, Hispanic / Latinx at Adobe, Indigenous / First Nations at Adobe, Pride at Adobe, Veterans at Adobe, and Women at Adobe. There's a strong sense of trust, community, and shared experience within these groups, and we encourage interested participants to use them as guiding factors as they see fit.
Matchmaking, matchmaking
Once we've got a group of mentees and mentors looking to pair up, we get going on getting them together. Often, based on everyone's responses to our intake form, it's clear who feels like a good fit, but our first step is always making sure the mentee is confident and prepared. If there are a few potential mentors who make sense, we'll send the mentee a list and let them decide—otherwise, we'll share info about the mentor we've selected and make sure they're good to go with the pick. After we get the thumbs up from the mentee, we notify the mentor for their approval.
Planning makes perfect
We provide planning templates designed to create smooth collaboration between mentor and mentee, and get everyone on the same page. We think of them as a kind of icebreaker with practical value—get acquainted and get organized.
These cover everything from high-level ambitions to key questions the mentee has for the mentor, to useful collateral (like articles, decks, or docs), to nitty gritty logistics like scheduling (like how often and how long they'd like to meet).
It's also critical to acknowledge confidentiality and disclosures. Will there be any other people looped in on potentially relevant info, like managers, teams, or colleagues? Providing clarity up front is essential to ensure that mentorships remain a safe space.

And this is where things our mentors and mentees take it away and do their thing—though we're always available to answer questions, provide guidance, or troubleshoot any issues that may arise.
Reflect, recharge, and keep it going
Feedback is so important to the vibrancy and value of our program, so every mentorship concludes with a post-program survey. The input we collect informs our methods and strategies moving forward, so we can be the best learners and leaders possible.
We understand that people putting themselves out there, as a mentee or a mentor, is a big deal. Our hope is to make participants feel comfortable with the process, positive about the outcome, and confident to take on their world at Adobe Design, and beyond.
Header copy
Design your career at Adobe.
Button copy
View all jobs